Published: 11/04/2018
Living in London, it's a fact of life that space is at a premium, but when it comes to gardens, it's a similar situation across the country. After years of development and extensions,
UK garden sizes have been substantially reduced
, and this is certainly often the case in Hendon, Finchley and Golders Green, the areas where we principally operate.
Without a lot of room to play with, many homeowners unfortunately abandon any ambitious garden design plans they might once have had. But with a few clever ideas and some forward planning, it's possible to create a really attractive space that perfectly suits your needs. These are our top tips for making the most from a small garden in London...
1. How Will You Use Your Garden?
First things first - what do you want from your garden? Is it going to be a relaxing place to have a mid-morning coffee, a functional storage area, a thriving vegetable patch, an evening retreat for entertaining friends on summer nights or a bountiful space full of flowers and plant life? It'll almost certainly be used for some combination of these, but it's essential to have a good idea what you want before beginning to plan.
Don't forget to ask anyone else who uses the garden - if you have kids, consult with them on what they might like. Their ideas might surprise you!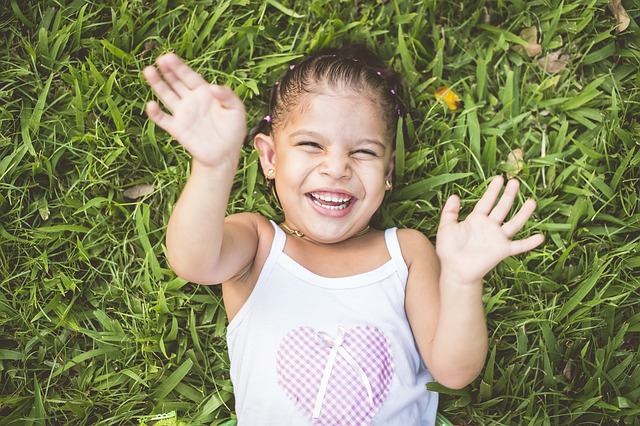 Everyone in the family uses the garden in different ways, they should also get a say in any resdesign
2. How Much Space Can You Make?
Whether you're going for a full-on redesign or a few quick and easy improvements, you'll need to know the amount of space you're working with. Almost everything in a typical garden can be removed, rearranged or worked around, so consider what you'd like to be changed and what you want to leave as it is. You don't have to make any decisions just yet just what could potentially go.
A good approach is to measure up your garden and then draw a plan This removes a lot of the guesswork and lets you try out different designs without needing to even pick up a trowel.
3. Pick the Centrepiece
The key to making the most out of a limited garden space is to choose one thing to really stand out This is your centrepiece - the main attraction of your garden. But it doesn't have to be an eye-catching feature. In fact this comes back to our first tip, deciding what you want from your garden. If it's a space to entertain, then focus on creating an area for a table and chairs. If you want to start barbecuing, then decide where the equipment is going to go before anything else, and if you want lots of colour and fragrance in your garden, then focus on the flowerbeds.
Deciding what the focal point of your garden will be should stop it from becoming a jumbled mess. Choose one thing, and work out from that.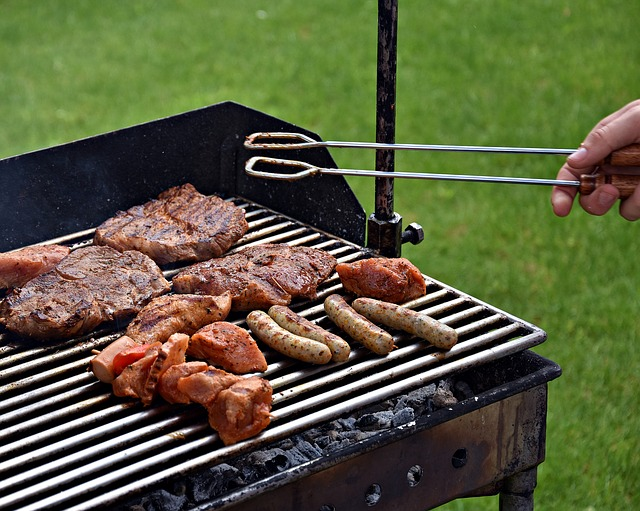 Planning to get your grill on? The size of your garden might affect the scope of your BBQ ambitions
4. Think in Three Dimensions
You've only got a limited area to use, so go for maximum efficiency by thinking vertically. Stackable planters are an excellent way to grow dozens of plants in an extremely small footprint, and are ideal if you're going for a gorgeous collection of summer blooms. Pair these with some hanging baskets and you've got a floor-to-ceiling planting area that only takes up as much ground space as a single large plant pot.
Creepers and vines are also perfect for a small London garden, as long as you keep them under control. If you're lucky enough to have features in your garden like a wrought iron staircase or railings then you can coax them along this. Alternatively, fix trellises to your walls and watch the brickwork disappear behind a curtain of leaves and blooms.
5. The Low-Maintenance Approach
Creeping vines and lush greenery are all well and good, but they take work. If you just want a stress-free place to sit and enjoy an outdoor breakfast every now and again you won't necessarily want to invest all that time and effort. The low-stress, low-maintenance approach suits many homeowners, and there are plenty of options to pick from.
A good way to cut back on maintenance is to go for a rock garden. With some careful planning it's possible to put together a very attractive feature that requires almost no attention, and when combined with a few cacti, ferns and succulents these can look every bit as good as a much more work-intensive garden.
If you're set on a more traditional look but still want a garden that's easy to look after, pick plants that will grow in almost any conditions. Classics like pansies, marigolds and sweet peas are ideally suited to a compact garden because they're hardy and very decorative. Herbs like rosemary, sweet mint, sage and thyme are also straightforward and simple to care for, and will provide you with a useful source of fresh cooking ingredients.
6. Looking After Your Garden
One of the plus points of a small garden is that they're typically much easier to look after. With no large lawn to mow and only a few beds to tend, you'll be able to spend less time working on your outdoor space and more time simply enjoying it. However, you should reckon on spending one weekend a month tending the garden, because you'll want to keep it looking its best.
There are always plenty of jobs to do in any garden, such as weeding, pruning and general tidying-up. However, some gardens need more work than others, and even low-maintenance solutions come with their own requirements. Timber furniture, for example, will need to be regularly sanded and treated to ensure it stays strong, neat and comfortable. Likewise, any paving or tiling will need to be pressure-cleaned regularly to keep it clean and free of moss. Factor in the cost of purchasing or hiring the tools needed to do this work, and bear in mind that if you buy it, it'll need to be stored somewhere.
7. Make Room for Storage
Garden storage is a great way to get more use out of your outdoor space. It gives you a place to fold up extra outdoor furniture for when the in-laws come to visit, somewhere to hide tools and plant pots, or even a small compost heap. If you're creative you can avoid sacrificing any of your limited floorspace.
A good tactic to maximise the utility of a small garden is to make it multi-purpose. By incorporating some storage elements you can make more use out of your space, as long as you think carefully about how it will work. Let's say you want to host barbecue parties every now and then, and decide to install a BBQ in your garden. Rather than leaving it outside and at risk of rust, build a wooden storage shed with a flat roof for it to live in. This way, you can still make use of the shed's roof as a place to plant whatever you want, and it keeps your BBQ safe and dry all year round.
8. Light It Up
Any garden, no matter what size it is, can look magical at night. Even if you're not intending to spend much time outdoors in the evening it can add real ambience to your home. The easiest way to do this is with solar-powered lights, which require no power solutions and often no installation at all.
Our favourite way of adding a glow to your garden is with floor-mounted solar spotlights. These clever lights require next to no attention and are incredibly easy to fit - just put them where you want them. They're completely unobtrusive and won't spoil your garden's look, unlike the more common pole-type solar lamps. In addition, they cast their light upwards, letting you create all sorts of beautiful effects by underlighting the greenery in your garden.
Another option, and one that's well-suited to garden entertainment, is solar-powered strings of "carnival" lights. These are easily strung across your outdoor space and bring a warm, attractive glow, perfect for long summer evenings in the garden with your friends. Just as with the floor-mounted spotlights, these lights are completely set-and-forget - they require no power, and turn themselves on automatically at night.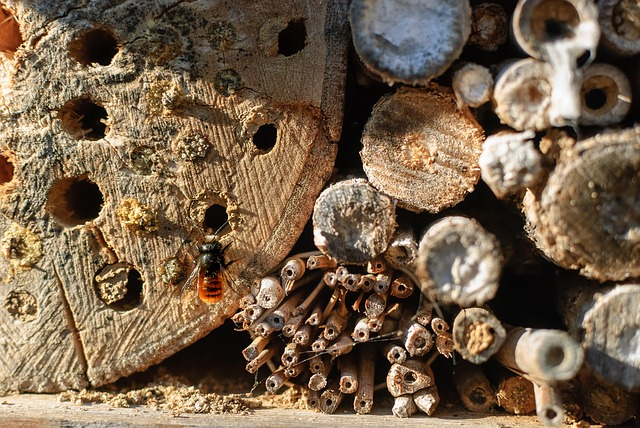 Creating a bug hotel like this for your garden is easy, eco-friendly and will make the birds love you
9. Add a Twist
As we've proved throughout this article, you can do a lot with a little. You can also add something completely out of the ordinary in your back garden. This isn't for everyone, but there are definitely some amazing, creative ways to use a small garden.
Insect House: A great way to encourage local wildlife is to put together your own insect house. These can be made from almost anything but are typically built from sawn logs, old pottery and stones. They provide a home for everything from solitary bees to ladybirds, and encourage some of the more helpful insects to make their home in your garden. Maybe one for creepy crawly lovers only though!
Self-Contained Water Feature: You almost certainly won't be digging deep in your back garden, and if you're pushed for space already it's unlikely you'll want to put in a pond or full-size water feature. However, there are plenty of amazing self-contained water features that can be quickly and easily put in place - no need for plumbing or digging, just a mains power supply.
Firepit: Toasting marshmallows in your own back garden, or relaxing with a beer in front of a crackling fire. What could be better? It's not as difficult as you might think; a self-contained metal fire pit can be easily put in place, and you can always store it out of the way when it's not in use. It goes without saying that you should be very careful if you're making a fire in a small garden, and it's a good idea to check with your neighbours, too.