Published: 20/06/2016
Buying a house is for many people the most expensive undertaking of their lives. A prospect at once daunting and thrilling, there's no question it pays to do your research as carefully as your sums.
While the focus of most first-time buyers will initially be saving for the deposit, it's important to look beyond the headline numbers and your mortgage costs. A number of upfront and ongoing fees, many of which are unavoidable, can add significant amounts to the overall price of a property, so we've collated five of the key ones you'll need to allow for in your budget.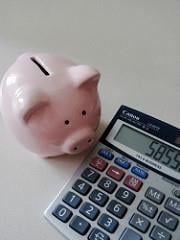 Image Source
Stamp Duty
This is a government tax on purchasing property or land. Paid by the buyer on both freeholds and leaseholds worth over £125,000, it's calculated in a similar way to income tax. There are various online calculators freely available but it's worth understanding how it works.
The first £125,000 of your new home's value is tax free, but you'll pay 2% on the value up to £250,000 then 5% up to £925,000. From there up to £1.5m you pay 10%, then 12% on anything above. So let's say you're buying a house in Hendon and your property is worth the local average of £800,000. You'd pay £30,000 in Stamp Duty.
From 1st April 2016, Stamp Duty increased by 3% on top of current rates for buy-to-let and second homes worth more than £40,000.
Conveyancing
The legal process of transferring a property from buyer to seller is known as conveyancing. This runs from the moment your offer is accepted and will include, among a number of other things, drawing up contracts, as well as fees for searches with the Land Registry and local authorities.
As with most of these costs the amount you pay will depend on the value of the property you're buying. Solicitors tend to charge a little more, but online conveyancers can be less expensive, normally costing between £680 for a property worth £250,000 up to around £1500 for those worth £1.5 million.
Given the value of most houses for sale in Finchley, Golders Green or Hendon, conveyancing costs will tend to be at the top end of this range.
Surveying
Before buying any house it is vital to get it checked out by a surveyor. The costs for this aspect of the process will really depend on what level of survey you choose to carry out. Many people will opt for a basic survey costing from around £250, however a full structural survey can cost upwards of £600.
Received wisdom suggests that paying out for a good survey before buying can often save homeowners significant amounts on repairs at a later stage. It makes a lot of sense to carry out a full structural survey, for example, if you're looking at buying older houses in Hendon, Golders Green or Finchley.
Valuation Fees
Your mortgage lender may not charge for the valuation of your property, but some will, and the cost again depends on the price of your new home. The process itself is not normally a lengthy one and will generally involve a visit from your lender to ensure the price you intend to pay is not being vastly inflated by the seller. Fees can range from £150-£1500.
Insurance
Lenders will insist that you take out buildings insurance in order to protect their interest, and the cost of this will depend on the age and value of your new home. In many cases you are not obliged to purchase this insurance through your mortgage provider so, although you probably don't need to be reminded to shop around before making a decision, make sure you do. Additionally, although property in Hendon, Golders Green or Finchley is obviously no more likely to be the target of crime than any other part of north west London, it makes a lot of sense to take out contents insurance, the cost of which will clearly depend on what you have in your home.