Published: 11/08/2016
The Northern Line is the backbone of the London Underground system, and for students renting in Hendon, it's their main route into the capital. With Hendon Central station as a convenient gateway, there's really no excuse not to explore the wider area during your free time, but where do you start?
Of course the famous black line runs right through the heart of London, linking some of the capital's most famous sites, but you can read about those in any guide book. From the historic to the ultra-modern, the wonderful to the downright wacky, why not get off the beaten track with our guide to 5 great excursions on the Northern Line.
Tooting Bec Lido, Tooting Bec
Open from May to September. Get off at Tooting Bec and head to the historic Tooting Bec Lido, tucked away in a secluded corner of Tooting Bec Common. Originally opened in 1906, at the lido you'll find rows of beautifully coloured changing rooms surrounding the largest open-air fresh water swimming pool in the UK. Ever popular with photo shoots, the lido was also used as the backdrop to Brad Pitt's boxing 'pool' scene in the film Snatch. Once you've had a reinvigorating dip, you can top up your energy levels or just relax in the Lido Café, which offers a wide selection of tasty options for breakfast, lunch and dinner.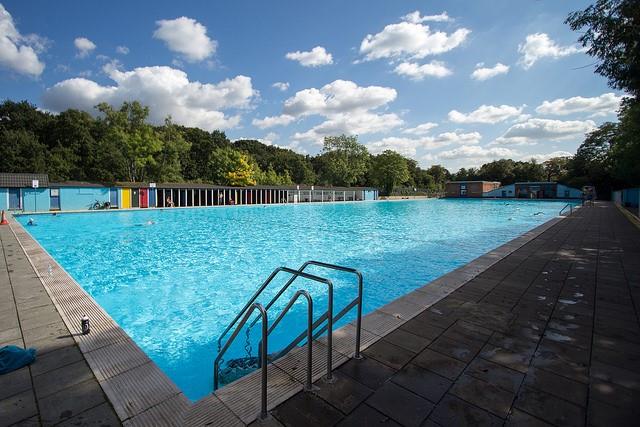 Source
artsdepot, Woodside Park
With so many great music venues in close proximity, those looking to rent a student house in Hendon who like taking in some live music now and again will be spoilt for choice, but make sure you pay a visit to artsdepot at Woodside Park. This award-winning cultural hub opened in 2004 and comprises a 395 seat theatre and a separate 148 seat studio theatre, as well as a gallery, café and bar. Offering a fantastic mix of big names and developing artists, artsdepot has some of the cheapest tickets in the capital, as well as offering a selection of free shows each year.
Keats House, Belsize Park
Get off at Belsize Park and take a stroll to Keats House. You don't have to be an English Literature student to enjoy this hidden gem on the southern edge of Hampstead Heath. Home to the Romantic poet John Keats from December 1918 to September 1920, the delightful Regency building is now a museum and literary centre dedicated to the man himself. While there are paintings, manuscripts and artefacts, all belonging to Keats and some of his contemporaries, the museum and its garden offers a welcome haven away from the bustle of the city.
Merton Abbey Mills, Colliers Wood
If you're looking for the latest designer brands then you're probably better popping into Brent Cross Shopping Centre, but for students in Hendon searching for the quirkier side of life, jump on the underground to Colliers Wood, and take a wander through Merton Abbey Mills. Located on the banks of the River Wandle, the site was once home to the famous Arthur Liberty printing works, and still has a working Victorian waterwheel. Home to assorted independent restaurants, bars and cafés, you'll also find a selection of truly original boutiques, offering everything from African wood carvings to workshops making edible books! A market unfolds at weekends, and you can see live music, shows and events on the site's unique bandstand performance area.
23 Carleton Road, Tufnell Park
If you're looking to rent student property in Hendon, you may wonder why we're recommending a visit to another rental property eight stops down the Northern Line. Well we promised you something wacky didn't we; 23 Carleton Road was the location for 23 Meteor Street in the cult television series Spaced, co-created by everyone's favourite zombie-thumping Cornetto cruncher Simon Pegg. Given the two series aired between 1999 and 2001, we appreciate this is one for the mature student, but, well, we're on the mature side ourselves and don't like being left out. And to be honest this show is an absolute classic and everyone should give it a watch. The show's characters Tim and Daisy, posing as a 'professional couple' despite having only just met, rented the ground floor flat all those years ago for just £90 a week, yet for fans of the show, a cheeky selfie on the pavement outside will cost you absolutely nothing in 2016. The flat is a residential property so we would ask that you show respect for the privacy of the current tenants; they're paying a lot more than £90 a week nowadays!