Published: 26/03/2018
One of the reasons we love Hendon so much is all the great drinking holes around these parts. Whatever you're looking for in a pub, be it a wide range of modern craft ales, a family-friendly place for Sunday lunch, or a cosy snug with a dartboard and a landlord that always remembers your face, you'll find it in Hendon. Here's a few of our favourite Hendon pubs, and what we think makes them so special.
Hendon
1. The Greyhound
Perfect for: Mid-Week Drinking
From an open fire to a menu featuring several mouthwatering barbecue dishes, and a roster of regular live events including open mic nights, quizzes and jazz, the Greyhound
is a great bet for a mid-week tipple in Hendon
. It lacks the reputation that some of the other pubs on this list enjoy, but what it does, it does well. With a choice of lively open spaces or more private areas, the Greyhound is as good a place to catch up with friends as it is for a Mother's Day meal out.
2. The Beaufort
Perfect for: A Relaxed Sunday Lunch
Set in the charming surrounds of Hendon's Beaufort Park, this pub has a spacious patio garden for al fresco drinking and dining, and a sterling range of cask ales and craft beers. The menu is fab. Dishes employ organic, seasonal British ingredients wherever possible, and the chefs make an effort to use locally sourced produce too. So when you
pop down to the Beaufort for Sunday lunch
, you're not just having a tasty meal, you're also helping the local economy.
3. Claddagh Ring
Perfect for: Late-Night Drinking
The Claddagh Ring on Church Road is a raucous Irish pub, massively popular with Hendon students and probably the best place in the area to celebrate St. Patrick's Day. It's open until 2am on Friday nights, and 2.30am on Saturday nights, and has regular drinks promos, which is a big reason why students love it so. They show sports here across big screens, host live music gigs and there is also a function room for private parties.
The Claddagh Ring is a Hendon institution
. It's big, it's noisy, and it's a lot of fun.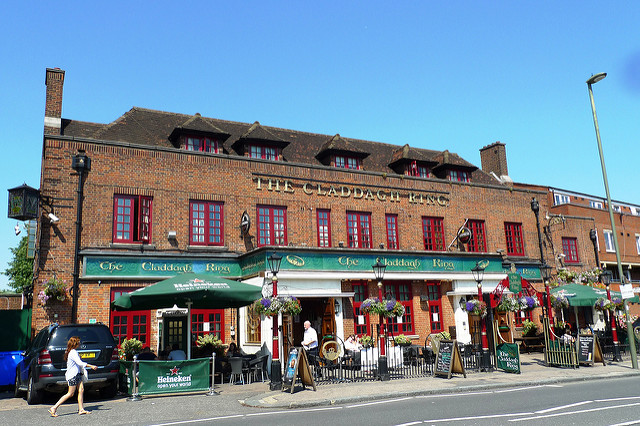 The Claddagh Ring - probably the finest student friendly pub in Hendon;
image source
4. Kelly's Bar
Perfect for: Sophisticated Dining
Kelly's is a stylish and cosmopolitan place. In the daytimes you can shoot pool, snack on tapas or classic pub grub, and socialise in the relaxed atmosphere. In the evenings, the dancefloor comes alive with DJs and live acts getting people moving. The restaurant at Kelly's Bar, Tim's Bistro, offers an eclectic mix of British and French cuisine, and the desserts are to die for. With an inviting cocktail menu too,
Kelly's Bar must surely be a top place in Hendon for date night
.
5. The Hendon
Perfect for: Live Sports
You know what you're getting with the Hendon. It's a quality Greene King pub, with a beer garden, pool tables and screens that show BT Sports and Sky Sports so you're sure of catching every match.
The Hendon is a proper sports pub
- coach groups are welcome. Expect a lively atmosphere during big events.
6. The Midland Hotel
Perfect for: A Swift Half Before the Train
Just down the road from Hendon Central, the pub that we call 'The Mids' was once known as the Pickled Newt. They've recently got on the real ale train but so far the range isn't that impressive. What we like about the Midland Hotel is its convenience for the station if you're there early, and also that it serves some nice spicy Thai dishes.
Finchley
7. Bohemia
Perfect for: Craft Beers
In Finchley we have one of NW London's finest drinking spots. The Bohemia is a huge brewpub that opened in 2014. They have an amazing line-up of beers brewed on-site, and an online shop so you can also drink your favourites at home. Their beer is also used as an ingredient in the pub grub such as burgers, sausage rolls and fish 'n' chips, which taste as good as you can imagine. The Bohemia has a fantastic atmosphere and we think it's maybe the
best place to spend an evening in Finchley
.
8. The Old White Lion
Perfect for: An Authentic Village-y Atmosphere
We love the Old White Lion. It's an enduringly popular local place that even today as Finchley gets more cosmopolitan, still retains a charming authentic village ambience. The pub stands on the site of the old London tollgate, and was built back in the 17th century. In its early days it was a coaching inn, and legend has it also a haunt of the notorious highwayman, Dick Turpin.
The Old White Lion is dog-friendly
, and has a solid range of real ales and craft beers too.
Golders Green
9. Old Bull and Bush
Perfect for: A Nice Family Meal Out
Situated near Hampstead Heath, opposite Golders Hill Park, the Old Bull and Bush is another local favourite. It's stylish and sophisticated, but has a delightfully warm atmosphere still, along with a good menu of classic pub food that uses seasonal ingredients. We always think of the
Old Bull and Bush
as the type of pub you could easily lose an afternoon in and not regret it for a moment.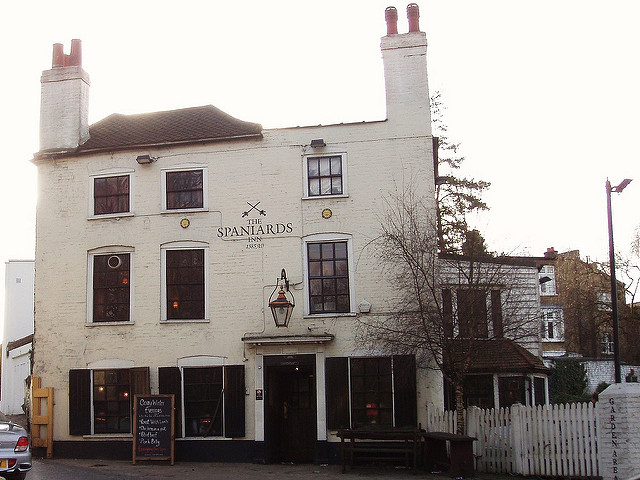 The Spaniard's Inn - housed in a Grade II-listed building and the most historic pub in the Hendon area;
image source
10. The Spaniard's Inn
Perfect for: A Fascinating Slice of History
Okay, it's not strictly in Golders Green, but the Spaniard's Inn is such a local icon and institution that we couldn't miss it off the list. Here you can dine al fresco in the beer garden during summer, or next to the open fire inside in the winter. The reason
the Spaniard's Inn is such a special London pub
though is its history. The pub dates back to the 1500s, and is said to have been where the poet John Keats wrote his 'Ode to a Nightingale'. Not only that, but the Spaniard's Inn appeared in Dickens' 'Pickwick Papers', and it's said that Dick Turpin's father was once the landlord! This is a pub with more than a few stories to tell.